Olukemi Olufunto Adegoke was born in Wimbledon, London, England to British parents of Nigerian origin in January 1980. Her mother was a Professor of Physiology and her father, a doctor. Badenoch ended up with a British passport (what she calls one of "Willy Wonka's Golden Tickets") when her mother came to Britain to give birth. She grew up, however, in Nigeria, with frequent trips abroad, including the U.S.
She is the Member of Parliament for the Saffron Walden constituency in Essex, winning her seat at the General Election in the summer of 2017 and serves as both Exchequer Secretary to the Treasury and Equalities Minister.
She sits on both the Justice Select Committee and the 1922 Executive Committee. Before being elected to Parliament she was a Conservative member of the London Assembly, acting as the GLA Conservatives' spokesperson for the economy, and was a member of both the Transport and Policing Committees. Prior to the Assembly, Kemi was a director at the Spectator magazine and worked in the financial services sector as associate director at Coutts & Co. Kemi spent some time living in the US and Nigeria as a child, returning to the UK at the age of 16. She studied Computer Systems Engineering at the University of Sussex and went on to study law at Birkbeck, gaining her degree in 2009.
Kemi is married to Hamish Badenoch and they have 2 daughters and a son.
Controversy regarding accusing Ms Agyepong of inflaming racial tensions, 28 July 2020
In July 2020, Badenoch blamed the family of a 12-year-old boy arrested over a toy gun for "inflaming tensions" about police behaviour.
Ms Agyepong had said in interviews that she feared police would shoot her children when officers raided her home in north London and handcuffed her 12-year-old son Kai. At the time, the police were searching for a firearm after a report from a member of the public passing on the street outside, that they had seen an armed Black man inside the Agyepong home. Police later recovered a plastic pellet gun.
Ms Agyepong described how during the 11pm raid on 17 July she believed that the officers would shoot if the incident escalated. She told the Camden New Journal: "I saw there were red dots on my daughters' heads and I started to get really scared. I honestly believed if the officers got alarmed in any way, they would shoot. We were ordered to get out of the house with our hands up and Kai was taken away. I was petrified for my kids' lives."
In an interview with the Radio 4 Today programme, Badenoch wrongly claimed the officers had been unarmed during the incident, that the family were using untrue "rhetoric" and that people shouldn't be using "this sort of language" about the police.
"I think it must be quite a frustrating and sensitive situation to find yourself in.
I have been in situations where I have been questioned by the police and at no point did I feel they were going to kill me," said Badenoch, who is the government's equalities minister and leading a review into race equality in the UK."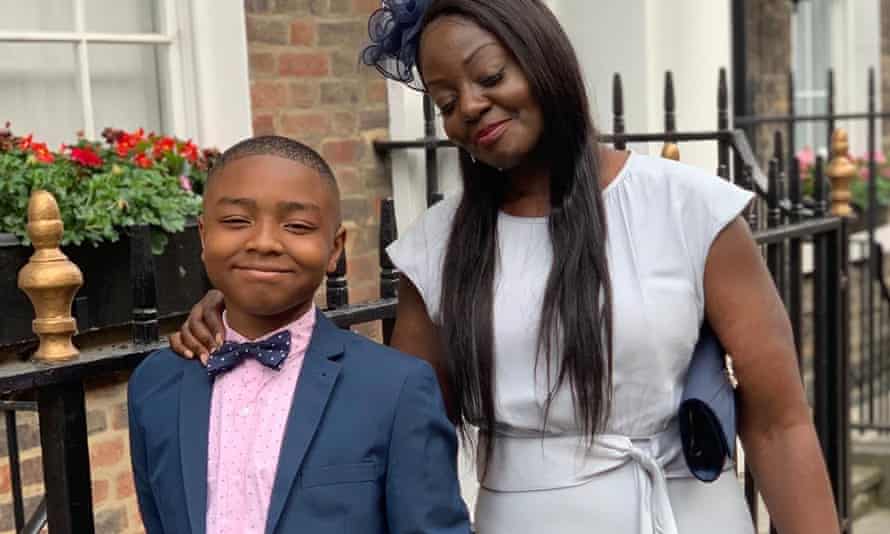 "I don't think we should be using this sort of language where people feel unarmed police officers try to kill people on the streets. We're hearing a lot of this rhetoric that is simply not true. We should not be trying to inflame tensions in this way by talking about police killing people when this is certainly not true."
Told by the presenter that the police were armed, she said: "Oh right, I wasn't aware of that. Well in that case that is something that can be reviewed. I don't think anyone should be in a situation where they feel frightened. It's not for me to challenge operational policing based on one story in the media."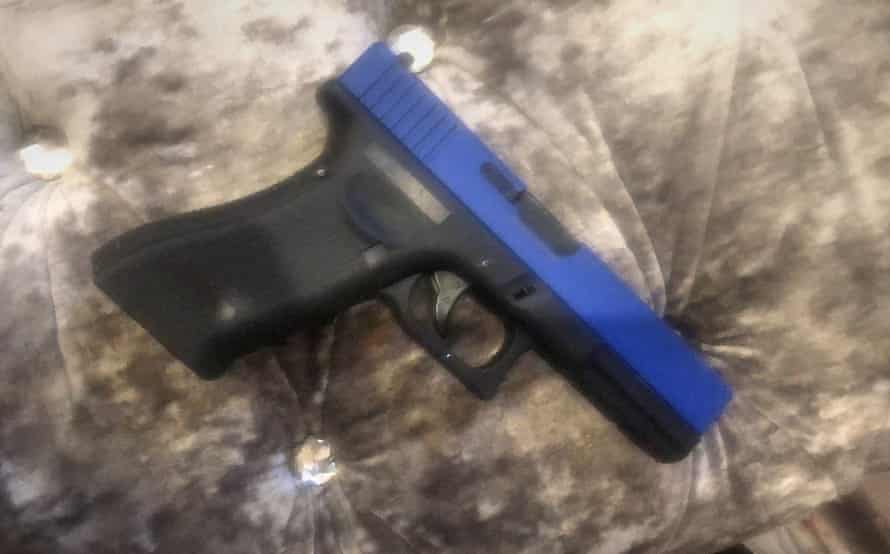 Badenoch's views on critical race theory, Black Lives Matter, Black history, decolonising the curriculum and white privilege. In response to Dawn Butler, MP (Labour), October 2020
The speech at the debate, as reported by The Guardian on 20 October 2020:
Schools that teach pupils that "white privilege" [a]s an uncontested fact are breaking the law, the women and equalities minister has said. Addressing MPs during a Commons debate on Black History Month, Kemi Badenoch said the government does not want white children being taught about "white privilege and their inherited racial guilt".
"Any school which teaches these elements of political race theory as fact, or which promotes partisan political views such as defunding the police without offering a balanced treatment of opposing views, is breaking the law," she said. She added that schools have a statutory duty to remain politically impartial and should not openly support "the anti-capitalist Black Lives Matter group".
Badenoch was speaking in response to Labour MP Dawn Butler, who had told the Commons that Black children are made to feel inferior by what they are taught in school and history "needs to be decolonised. At the moment history is taught to make one group of people feel inferior and another group of people feel superior, and this has to stop," Butler said. "History needs to be decolonised. You can go through [the] whole of the GCSE and not have reference to any Black authors at all. You could go through history and not understand the richness of Africa and the Caribbean, you can go through history and not understand all the leaders in the Black community."
Badenoch rejected the claims, insisting that history in schools "is not colonised".
"We should not apologise for the fact that British children primarily study the history of these islands, and it goes without saying that the recent fad to decolonise maths, decolonise engineering, decolonise the sciences that we've seen across our universities to make race the defining principle of what is studied is not just misguided but actively opposed to the fundamental purpose of education," she said.
Butler responded: "Sometimes, especially during Black History Month, it would be progress if [people] could acknowledge the systemic racism that not only existed then, but has a lasting legacy now in our structures, which doesn't for any other group."
Controversy with Author Reni Eddo-Lodge, October 2020
The Guardian reported the following on Wednesday 28 October 2020 (Sian Cain).
Reni Eddo-Lodge, the bestselling author of Why I'm No Longer Talking to White People About Race, has demanded a correction and apology from the Spectator after it printed comments from junior minister for equalities Kemi Badenoch that Eddo-Lodge says implies that she supports racial segregation.
Writing on Twitter on Wednesday, Eddo-Lodge announced that she had contacted the Spectator for a correction to its 22 October interview, which ran under the headline "Kemi Badenoch: The problem with critical race theory". Before the comment Eddo-Lodge has complained about, Badenoch is described as feeling "particularly incensed by the boom in sales of texts such as White Fragility by Robin DiAngelo and Reni Eddo-Lodge's Why I'm No Longer Talking To White People About Race".
Both titles went to the top of the bestseller lists earlier this year after the killing of George Floyd in the US. In June, Eddo-Lodge became the first black British author to top the overall bookcharts.
Eddo-Lodge said she also asked for an apology and correction from the Independent, which ran a news story repeating Badenoch's comments the same day.
"The article includes the suggestion I am in favour of a racially segregated society. I am not … I strongly disagree with the charge against me made in both the Independent and the Spectator. I'm not in any way a proponent of segregation," she wrote.
Controversy with Nadine White of the Huffington Post (UK), January 2021
In January 2021, the government minister faced criticism after publicly accusing a journalist of "making up claims" and creating disinformation for asking questions about a video campaign promoting the coronavirus vaccine programme. In a Twitter thread, Badenoch accused the journalist from HuffPost of "creepy and bizarre" behaviour, and published screenshots of questions sent to her MP's office and to a ministerial press office, naming the reporter.
In the wake of the tweets, the journalist concerned, Nadine White, had been forced to make her own Twitter account private as she was receiving so much abuse, HuffPost said.
Nadine had recently suffered the loss of her sister to Coronavirus.
Replying to Badenoch's tweets, the HuffPost editor-in-chief, Jess Brammar, said it was "correct and standard practice for journalists to check facts and approach people in public office for comment", and that the website had not published the story without the response.
Brammar added: "Young, female, Black journalists receive some of the worst abuse on Twitter, and to behave in this way is extremely disappointing – even before you consider that the person involved is the minister for equalities."
HuffPost stated that it was considering making a complaint to the Cabinet Office over the matter.
The Labour MP Dawn Butler wrote in a tweet to Badenoch that the minister's actions had left White "subjected to vile abuse". Butler said: "You have set some nasty people on to a young journalist who is currently grieving a family member. MPs need to be understanding of the impact they have."
In June 2020, Badenoch criticised the BBC's community affairs correspondent, Rianna Croxford, after she reported that a Black doctor had been sidelined from leading the PHE review into coronavirus risk factors. The BBC stood by the story.
Croxford tweeted her support for White, calling her "a brilliant journalist who is getting trolled and piled on today simply for doing her job".
The author and journalist Afua Hirsch accused Badenoch of "trolling two of our Black journalists for doing their job of holding you to account".Badenoch previously appeared to claim in a Spectator interview that Reni Eddo-Lodge, author of Why I'm No Longer Talking to White People About Race, "actually wants a segregated society".
The Equalities Office later sent out a statement that did not address questions about Badenoch's tweets and the criticism of them. A spokesman said: "[Badenoch] believes that to instil confidence in the vaccine it is vital to remain unified, and not undermine the message of promoting take-up amongst minority communities.
On Friday 5 February, 2021, The Guardian reported that Simon Woolley (Operation Black Vote founder and former head of Downing Street's race unit) had called for "Boris Johnson [to] force an equalities minister to apologise or sack her." Simon stated that the government must respond to Kasumu's concerns that Badenoch may have broken ministerial rules when she publicly criticised Nadine White, a HuffPost journalist.
Simon's comments came in the light of a resignation letter written by Samuel Kasumu, Boris Johnson's senior adviser on ethnic minorities. Samuel was going to resign as he said he feared that "the Conservative party was pursuing a "politics steeped in division"." In the letter to Boris Johnson, Kasumu also raised concerns about the conduct of Kemi Badenoch, the equalities minister, suggesting she may have broken the ministerial code when she publicly criticised a Nadine White on social media.
Though reportedly persuaded not to resign on this occasion, Samuel would later resign on 1 April 2021, a day after the publication of the widely criticised Commission on Race and Ethnic Disparities report.
Comments regarding "ethnic minorities", 10 March 2021
While addressing the Women & Equalities Committee, Badenoch stated that a reluctance to be vaccinated amongst "ethnic minorities"was in part due to attitudes that they had brought from their home countries. The Women and Equalities Committee took evidence from the Minister for Equalities on the government's approach to the vaccine take-up rate among ethnic minority communities and women. The session heard that some of the groups are suspicious of local representatives, dubbed Community Champions, working with the government to encourage vaccinations, and Badenoch was asked about the work that has been done to address these concerns.
"There also needs to be some realism about how much the government can do. Many people talk as if a lot of this trust is to do with government or with actions. For many immigrant groups, lack of trust in authority is something they actually bring from the countries they come from," the minister said. 
"You look at a lot of refugee, asylum communities, (and) lots of very serious issues which they've had with authorities… we shouldn't make the assumption that just coming to this country means they're just going to shed that.  We just have to be relentlessly positive about the work that we are doing and continue to work with what will be the vast majority of people who do trust in govt and eventually it will filter through. Where we have family members, for example, who aren't literate, don't speak a language, you find that its other family members who do have those skills and that education who could do that sharing. People are a lot less likely to think that their family member is part of the government conspiracy."
The Committee was in formed that four in 10 of Black or Black British adults are reluctant to get a Covid-19 vaccine – the highest rate of all ethnic groups, according to new data from the Office for National Statistics. 
Kim Johnson, the Labour MP for Liverpool Riverside, told the Committee that a parliamentary committee the preceding week heard evidence from witnesses, including healthcare practitioners, that structural inequalities and racism has contributed to vaccine hesitancy.
Badenoch, however, disputed this and said examples of "historic medical racism… people often talk about things in the US, there's one specific example about Pfizer in Nigeria – which we don't find here."
"I'm also very conscious about propagating a line that the NHS is racist which is fundamentally what this is about. The medical racism that they are talking about is often to do with people interpreting the way that they're being treated as not being culturally sensitive and having more cultural appropriate guidance is something that the govt is very much funding and very much alive to."
Following the resurgence of the Black Lives Matter movement in summer 2020 after the death of George Floyd, NHS Chief Executive Simon Stevens released an internal statement acknowledging that racism is a problem within the institution.
Commission on Race and Ethnic Disparities report
The Sponsoring Minister for this piece of work was Kemi Badenoch, Exchequer Secretary to the Treasury and Equalities Minister.
On 16 July 2020, Kemi Badenoch said of the Commission:
This Commission demonstrates this government's mission to level up opportunity for everyone whatever their background. Our expert Chair and Commissioners will make evidence-based recommendations to change lives for the better. Their work will be crucial in informing and improving the national conversation on race.
It was 31 March 2021 when the report of the Commission, which was chaired by Tony Sewell, was released to the public.
Reaction to the report
Sources: bbk.ac.uk, The Guardian, gov.uk, The independent
See also: Black & Asian ministers: modern-day courtiers or jesters?, Tony Sewell, Duwayne Brooks, The Sewell Report
Recent posts
Papal Bull of 1455, Romanus Pontifex
This Bull authorised Portugal to raid African Kingdoms, territories and land, capture and enslave the inhabitants and seize their natural and mineral resources, under the authority of the Pope and the Catholic Church.