UK – Mohamud Mohammed Hassan Police misconduct notice served
WALES – A misconduct notice has been served on a South Wales Police officer following the death of a man hours after his release from custody.
It is part of a probe into police contact with 24-year-old Mohamud Mohammed Hassan from Cardiff.
Mr Hassan was arrested at his home on suspicion of breach of the peace but was released without charge the next day, 9 January, and died that night.
His family said he claimed he was assaulted in custody.
Investigators from the Independent Office for Police Conduct (IOPC) served a misconduct notice on a South Wales Police officer on Monday. 
Hundreds of people joined a protest march through Cardiff after Mr Hassan's death.
'Signs of experiencing pain'
The officer attended the Newport Road, Cardiff, address on 8 January and accompanied Mr Hassan to Cardiff Bay custody unit in the rear of a police van, the IOPC said.
During this time period, Mr Hassan was heard on body worn camera complaining of having a fit, suffering a migraine, and he displayed signs of experiencing pain.
The misconduct notice relates to this information potentially not being passed to custody staff in charge of Mr Hassan's welfare.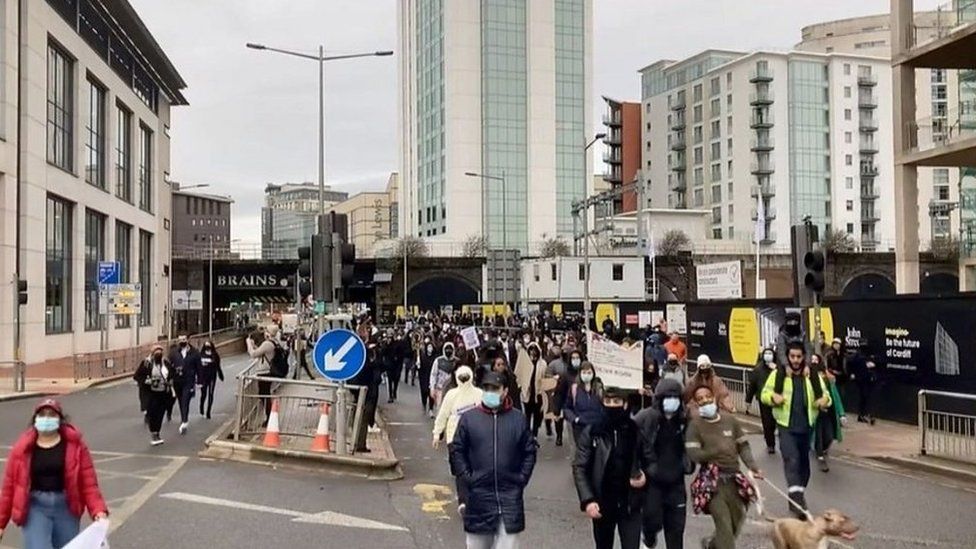 According to the IOPC, the serving of a misconduct notice does not necessarily mean an officer has committed any wrongdoing. It is to notify an officer that their conduct is being investigated.
IOPC director for Wales, Catrin Evans, said: "We are continuing to analyse the footage and piece together other evidence, and we are looking at all the interaction police had with Mr Hassan over the weekend of his death.
"In the course of an investigation, where an indication arises that an officer may have breached professional standards that may warrant a disciplinary sanction, we serve a disciplinary notice to advise them they are subject to investigation.
"We have advised Mr Hassan's family and South Wales Police that we have done so for one officer over possibly not passing information about Mr Hassan's welfare to the custody sergeant on duty.
"We keep misconduct notices under review during the course of an investigation. At the conclusion of an investigation the IOPC decides whether any officer under notice has a disciplinary case to answer." 
The investigation is continuing and South Wales Police said it was fully cooperating.
"We acknowledge the impact Mr Hassan's death has had on his family, friends and the wider community," a spokesman for the force said.
"Our thoughts and condolences continue to be with them."
Source: BBC News, 15 January, 2021
Recent posts
Papal Bull of 1455, Romanus Pontifex
This Bull authorised Portugal to raid African Kingdoms, territories and land, capture and enslave the inhabitants and seize their natural and mineral resources, under the authority of the Pope and the Catholic Church.