Black applicants least likely to be offered PhD places
By Yasminara Khan and Joe Cowell
BBC Newsnight
White applicants are offered places to study for a PhD at a higher rate than Black, Asian and ethnic minority candidates, data obtained by BBC Newsnight has found.
The programme sent freedom of information requests to 133 UK universities, requesting data for the academic years between 2015 and 2020. Of the 62 universities which responded, all but one had a higher acceptance rate for white applicants.
The data shows the imbalance was starkest for Black applicants.
Fifty one universities provided a detailed breakdown by ethnicity, and this showed Black applicants had the lowest proportion of successful offer rates at 33 of these universities. This data includes offers to home and international applicants.
A PhD is the highest academic qualification a student can achieve. The degree involves significant independent research into a chosen field. Getting a PhD is a crucial step to progress to an academic career.
While at undergraduate level there are more ethnic minority students than ever before, this is not the case for PhD study. At postgraduate research level, the proportion of black and ethnic minority students drops drastically, although this can vary according to the area of study.
From the data obtained by BBC Newsnight, one example showed there were 8,088 offers for white candidates, compared to only 386 for those of Black ethnicity.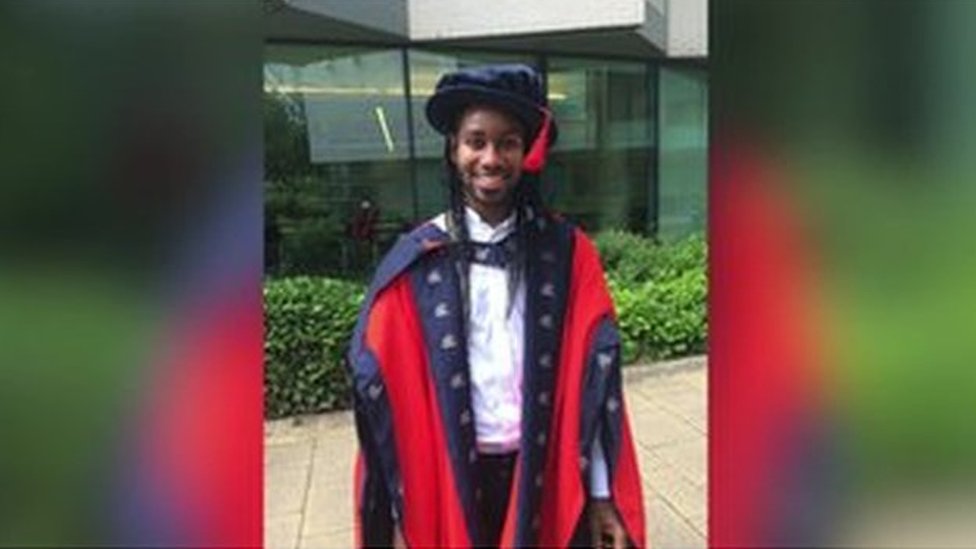 Dr Jason Arday, an associate professor at Durham Universiity, is one of a minority of Black academics in the UK. 
"Even though I did see a lot of black and [ethnic] minority students at university, I was never actually taught by a person of colour. So that was kind of the first notable omission that I saw," he told BBC Newsnight.
Dr Arday has conducted research into Black students' experiences across universities, and says the barriers are often subtle. They depend on things such as supervisors and lecturers selecting students at undergraduate level to progress onto PhD studies.
"The type of people I saw get cherry-picked were white middle-class people. And that never extended, in my opinion, to black or minority ethnic people."
A first-class or upper-second degree is normally required to go on to postgraduate research. A report by Universities UK shows that white undergraduate students are awarded higher grades in comparison to their Black, Asian and minority ethnic peers.
Former Education Secretary Damien Hinds spoke to BBC Newsnight about the degree attainment: "I think your research on PhDs is important and ground-breaking. What we were absolutely aware of was this gap in attainment at firsts and 2:1s. The Office for Students is focused on this, trying to identify what the blockage is."
'PhD was not in my vocabulary'
Dr Suriyah Bi grew up in Alum Rock, Birmingham, one of the most deprived areas in the UK. She attended a local comprehensive school and – against all expectations – made it to Oxford University, and an academic career as a lecturer.
Dr Bi feels her background as a working-class Muslim Kashmiri woman was a block when trying to get into academia. "The word 'PhD' was not in my vocabulary until I was an undergraduate at Oxford", she told BBC Newsnight.
"I think when you have a number of multiple intersecting minority identities, you're carrying the burden of what each of those identities brings. And they combine and conflate and make it even more difficult for you."
The funding challenge
Funding a PhD can be critical for people from low-income Black, Asian and ethnic minority backgrounds. 
Dr Arday says he had several jobs to pay for his degree. He adds that most of his peers secured funding for their doctorates, but he was not aware this resource was available. "That information is inaccessible to Black and ethnic minority prospective academics."
Dr Arday's experiences and research have left him reflecting about the challenges faced by Black people in academia.
"Universities portray this veneer of egalitarianism, fairness, equality and diversity, but are actually one of the biggest facilitators of inequity," he said."I would always vehemently argue that academics have influence, and… I think it's really important that we should use that platform to challenge structural inequality."
You can watch Newsnight on BBC Two at 22:30 on weekdays. Catch up on iPlayer, subscribe to the programme on YouTube and follow it on Twitter.
Recent posts
Papal Bull of 1455, Romanus Pontifex
This Bull authorised Portugal to raid African Kingdoms, territories and land, capture and enslave the inhabitants and seize their natural and mineral resources, under the authority of the Pope and the Catholic Church.