Jacob Miller was born on 4 May, 1952, in Mandeville, Jamaica to Joan Ashman and Desmond Elliot. At the age of eight he moved to Kingston, Jamaica.
Jacob's mother, Joan, speaking to The Gleaner, March 22, 2018
Joan describes the circumstances surrounding the birth of her only son as unpleasant, as she was still a young student. "I grew up with my grandmother. She was a very strict person. It wasn't a friendly situation or boyfriend situation. That just happened. I just let it rest." As a result, Joan's aunt took over primary care of Jacob."My father's wife's sister – she was 'the mother.' He didn't know his father."
Early Musical Signs
But before migrating to the US, Joan was present in young Jacob's life. "I knew there was something with that child. You know those sticks you beat on drums; he was always beating something. Beating his hands together, knocking around the place. I remember once we were in Half-Way-Tree, and Jacob took out his money and threw it up for anyone to catch it. There was something about him," she said. As the old adage goes, the apple doesn't fall far from the tree. Joan is also a musician in her own right. "I sing in four choirs. I sing at church and play the piano. I have a piano with me right now," she chuckled. Now 80 years old, Joan resides in Camden, New Jersey, where she maintains a full-time job at a day-care centre for the past 10 years.
Remembering Jacob Miller, jamaicansmusic.com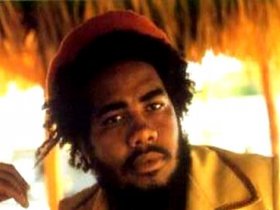 by Biko Kennedy
With his ever gregarious and humour-riddled persona, Jacob 'Killer' Miller's short-lived prolific career paints a picture of a man who'd easily capture the attention of the most ardent Reggae defiant as he chanted and touched on varying Rasta-infused issues.
Known for his signature vibrato style, later influencing singers such as Dennis Brown and George Nooks, Jacob Miller stood at the helm of Reggae's booming era of the 1970's leaving behind hits including Tenement Yard, Tired Fe Lick Weed In a Bush and Everything Great.
It would seem as though Miller was always destined for greatness. Having recorded his first single Love Is a Message under Clement Dodd's Studio One studio, Miller, at age 13, hoped to follow in the footsteps of Delroy Wilson and Errol Dunkley in becoming the label's next child superstar. But the single failed to make major ripples on varying charts yet it wasn't until 1974, when Miller got into the studio with the legendary Augustus Pablo, that things began to improve.
"When I got to meet him I wanted to do over his tune (Love Is a Message), so what we do was use some of the words and make a new track," Pablo, who died in 1999, told American writer Ian McCann in 1992.
Keep on Knocking, Pablo's revamped version of Love Is a Message, was an undeniable hit, and encouraged the young producer to further record singles such as Baby I Love You So, Who Say Jah No Dread, Each One Teach One and Girl Name Pat and False Rasta.
Jacob Miller hooked up with the band Inner Circle soon after – having seen the mainstream appeal that could be garnered with the band – where the hits effortlessly flowed. 
"We wanted a singer and somebody told us about a youth up Red Hills Road who can sing good," Ian Lewis, bass guitarist from Inner Circle, told the Observer in a December, 2001 interview. "Wi went up there and met him and him seh 'mi can sing any music yuh want'. Wi tell him fi check wi 'roun' Chelsea Avenue the next day," Lewis continued. 
But Jacob Miller wasn't content with just being the band's lead vocalist and continued his solo career voicing for producers like Joe Gibbs and Gussie Clarke and finishing second to Freddie McKay's Dance Dis Ya Festival with All Night 'Till Daylight in the 1976 Festival Song competition and even took up acting and made a cameo in Theodoros Bafaloukos' film Rockers. 
After a stellar performance at the One Love Peace Concert at the National Stadium -during which Miller brought rival enforcers, Claudius Massop and Tony Welch, on stage for a symbolic peace handshake to the single Peace Treaty – the band signed to Island Records releasing Everything Is Great album spawning an unexpected disco-esque hit of the same title.
It was while working on Inner Circle's third album for Island Records that tragedy struck on Sunday, March 23, 1980, when Miller was killed at age 27 in a car accident on Hope Road in Kingston, Jamaica. 
Miller and Inner Circle had been preparing for an American tour with Bob Marley and the Wailers and was on the verge of superstardom becoming very close friends with Bob Marley and Chris Blackwell.
"Chris was opening this new place in Brazil and 'Jakes', Bob and must be Grace Jones, fly down. Wi neva really interested so wi go Miami," Roger Lewis, guitarist from Inner Circle, reported. "We were to meet back in Miami, go to Nassau and continue recording….him come back from Brazil the Friday and dead the Sunday."
Jacob was also an actor and appeared in "Rockers" in 1978, as the character Jakes, and as himself in documentaries Roots Rock Reggae (1977) and Heartland Reggae (1980).
Recent posts
Papal Bull of 1455, Romanus Pontifex
This Bull authorised Portugal to raid African Kingdoms, territories and land, capture and enslave the inhabitants and seize their natural and mineral resources, under the authority of the Pope and the Catholic Church.