Anthony Oluwafemi Olaseni Joshua was born to Robert and Yeta Joshua on 15 October, 1989 in Watford, Hertfordshire, England. He is a professional boxer and a unified world heavyweight champion. He has successfully represented Britain at the Olympics (gold, 2012), Commonwealth Games, and several other international sporting events. Of the six heavyweight belts in the world, Joshua has successfully won four and been a contender for the BBC sports personality of the year. His boxing matches are high-profile and drawing audience attention globally.
Anthony spent most of his childhood at his ancestral home in Nigeria. He was five years old when his parents split and his mother took the decision to move to England with him.They returned to Watford, where Anthony attended Kings Langley Secondary School. It was at the school that Anthony would meet Nicole Osborne, with whom he would later have a son, Joseph.
He was nicknamed 'Femi' by his friends and teachers and excelled at football and athletics, showing great promise as a sprinter when he broke the 100m record where he completed the run in 11.6 seconds. He worked as a bricklayer prior to committing full time to boxing after his cousin, Ben, took him to the Finchley Amateur Boxing Club in Barnet.
Anthony won all 18 fights at Amateur level, including the Senior ABA Championships, and it was his performance in the World Amateur Boxing Championships in 2011 that earned him a spot at the 2012 Olympic Games. Once there, he defeated Italy's Roberto Cammarelle in the final of the super heavyweight division, and won the gold medal.
After winning his professional debut in October 2013, he remained undefeated for his next 18 fights, earning the WBC International Heavyweight title when he was 24. He added to his success with Commonwealth heavyweight title in 2015, beating Gary Cornish and then successfully defended his title against Dillian Whyte. A win in his fight against IBF heavyweight champion Charles Martin in 2016 led to Anthony's his first world title, which he successfully defended against Dominic Breazeale and then against Eric Molina in 2017.
Anthony took on and beat renowned fighter Wladimir Klitschko in April 2017 at Wembley, earning him the vacant WBA Super Heavyweight title in front of 90,000 fans and a worldwide audience, who got their money's worth with an 11 round match. Hopes of a much anticipated rematch were scuppered when Klitschko announced on 3 August 2017 that he would be retiring from boxing. Anthony next fought Carlos Takam (not Kubrat Pulev as originally billed) due to injuries and successfully defended his title. He next successfully defeated Joseph Parker on 8 January 2018 at the Principality Stadium in Cardiff, claiming the WBO belt. He also retained his WBA, IBF, and IBO belts.
On 22 September 2018, Anthony Joshua stopped Alexander Povetkin in the seventh round to retain his world heavyweight titles at Wembley Stadium.In February 2019, it was announced that Joshua would have his first fight in the USA, when he would be defending his IBF, WBA and WBO world heavyweight titles against Jarrell Miller on 1 June at Madison Square Garden. However, the New York State Athletic Commission refused Jarrell Miller a licence to fight as he returned an "adverse finding" in a drug-testing sample.
Instead, Joshua fought Andy Ruiz Jr and suffered a shock defeat. The first loss of his professional career. Ruiz floored Joshua four times before the fight was stopped in the seventh-round. Beaten but unbroken, on 7 December 2019 in Saudi Arabia, Anthony beat Andy Ruiz Jr. He won the rematch against Ruiz with a unanimous points victory to reclaim the IBF, WBA and WBO belts.
The win placed Anthony in a small club of boxers, including Muhammad Ali, Lennox Lewis, Evander Holyfield, Mike Tyson and Floyd Patterson, who have successfully reclaimed the world heavyweight title.
After George Floyd's murder
But Anthony was attacked on social media by those elements of society that hate the fact that Black people live, breathe and walk the earth. On 11 June, 2020, Skysports.com published the following:
Anthony Joshua defends speech at Black Lives Matter protest
Anthony Joshua has defended the wording of a speech he gave at a Black Lives Matter march at the weekend. Joshua took to social media to suggest that footage of his speech had been edited out of context. The first line of his tweet ended in an expletive: "If you think I'm a racist —."If you watch the whole video, the speech was passed around for someone to read and I took the lead. "I personally spoke from the heart about the Watford community, ideas of us personally investing seven figures to create unity and opportunities and adding change to the African/Caribbean community "Shops aren't the issue here. "Before you talk [negatively] you better boycott racism.
"I said what I said and I will act to make change."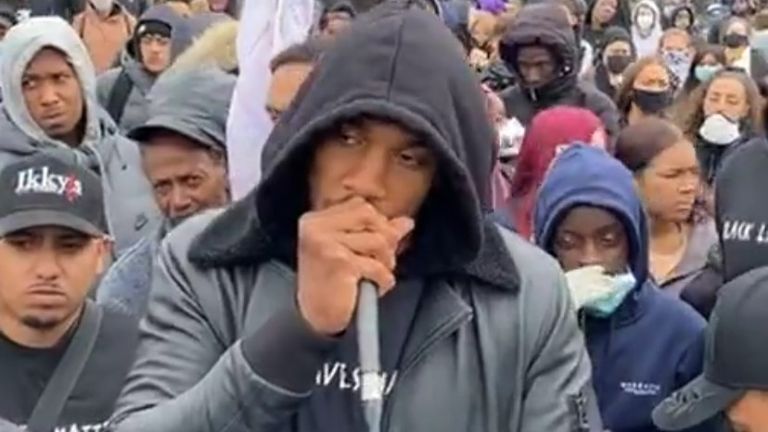 The IBF, WBA and WBO heavyweight champion marched in his hometown on Saturday. He wore a knee brace and had a crutch supporting an injury but has insisted that it won't affect him long-term. Joshua said during his speech at the Black Lives Matter protest:
"We can no longer sit back and remain silent on these senseless, unlawful killings and sly racism on another human being – based on what? Only their skin colour.
"We need to speak out in peaceful demonstrations – just like today, so well done Watford."We must not use a demonstration for selfish motives and turn it into rioting and looting."Joshua went on to say: "The virus has been declared a pandemic. This is out of control. And I'm not talking about COVID-19. The virus I'm talking about is called racism. "We stand united against a virus which has been instrumental in taking lives of the young, old, rich, poor; a virus which is unapologetic and spreads across all sectors."
Sources: Skysports.com, thefamouspeople.com, BBC.com
Recent posts
Papal Bull of 1455, Romanus Pontifex
This Bull authorised Portugal to raid African Kingdoms, territories and land, capture and enslave the inhabitants and seize their natural and mineral resources, under the authority of the Pope and the Catholic Church.