On 31 August, 2010, 23 year old IT student Olaseni Lewis developed symptoms that suggested he was suffering from an acute psychotic illness. He was taken by his family to the Maudsley Hospital to seek treatment for him. The Maudsley, following an assessment, transferred him to Gresham Ward at the Bethlem Royal Hospital, as a voluntary patient.
According to staff at the Hospital, Seni became agitated, was restrained and formally detained under the Mental Health Act 1983 and then medicated. Hospital staff requested police assistance and 11 police officers arrived. They shackled his hands with 2 sets of handcuffs and his legs with 2 sets of restraints. Seni repeatedly told the officers "I can't breathe", but his pleas were ignored. Significant force was used to apply the handcuffs in a prolonged restraint Seni and when his body went limp 45 minutes after the police had first laid their hands on him, the officers walked away and left the room.
They presumed that Seni was feigning unconsciousness but during his prolonged contact with the 11 Metropolitan Police officers, his brain had been starved of oxygen. Seni was placed on life support and died.
When his body went limp officers simply walked away, believing he was faking it. But his brain had been starved of oxygen. He was placed on life support, and died four days later.
Seni was in a hospital, a place that was supposed to have been a place of safety for him. A place he had gone to voluntarily, to seek help. A place where he was surrounded by medical staff who could have helped him.
"They left our son on the floor of a locked room, all but dead. We struggle to comprehend he died simply because police and medical staff failed in their duty to treat him as a human being.", says Seni's mother, Aji.
The Inquest
An inquest concluded 7 years later on 9 May 2017, found that the restraint by the police was "prolonged disproportionate and unreasonable, that police followed to follow their training to deliver basic life support and that medical staff failed to respond to the medical emergency".
Statement from Seni's family in response to inquest conclusion, May 2017
"When Seni became ill, we turned to the state in our desperation: we took him to hospital which we thought was the best place for him.  We shall always bear the cross of knowing that, instead of the help and care he needed, Seni met with his death.
Now, after almost seven years of struggle to get here, the last three months have allowed us to hear for ourselves about what happened to Seni.  We have heard about the failures at multiple levels amongst the management and staff at Bethlem Royal Hospital: instead of looking after him, they called the police to deal with him.  And we have heard about the brute force with which the police held Seni in a prolonged restraint which they knew to be dangerous: a restraint that was maintained until Seni was dead for all intents and purposes.
In light of the evidence we have heard, we consider that the prolonged restraint that resulted in Seni's death was not and cannot be justified, and we now look to the Crown Prosecution Service to reconsider the case, so that the officers involved in the restraint may be brought to answer for their actions before a criminal court.  This is necessary, not just in the interests of justice for Seni, but also in the public interest, so that the police are seen to be accountable to the rule of law.
The officers involved in the restraint have not been able or willing to offer any word of condolence or regret in their evidence, in the same way that none has been forthcoming from any of their managers or superiors in the Metropolitan Police over these years.  That lack of simple human decency is telling, and the new Metropolitan Police Commissioner, Cressida Dick, has an opportunity to put it right.  We call on her to meet with us, so that we may help her to take responsibility for Seni's death, to understand the lessons that need to be learnt, so that other families need not go through what we have had to endure.
As a family, we couldn't have got through the last seven years without our Christian faith, the support of our family, friends and legal team, and the unending strength we have gained from the team and other families at INQUEST and the United Families and Friends Campaign."
Seni's parents, Aji and Conrad Lewis, in response to inquest conclusion on 9th May 2017.
The IPCC
The Independent Police Complaints Commission (IPCC) found that six of the 11 officers should face a misconduct hearing over the death in their second investigation.
But a gross misconduct hearing held behind closed doors by the metropolitan police concluded that none of the six officers breached standards of professional behaviour in relation to the death.
Seni's Law – The Mental Health Units (Use of Force) Act 2018
On 1 November 2018, The Mental Health Units (Use of Force) Act – also known as Seni's Law – received Royal Assent. 
The law will transform the lives of people in inpatient care, by ensuring:
Any use of force is recorded – which will improve accountability and transparency about how often force is used and who it is used on.  

Better training for staff, including on de-escalation methods, and the psychological impact of force on a patient.

Improved transparency through every mental health unit having to publish a policy on the use of force, including what steps that hospital will take to reduce the use of force.

Increased accountability with a designated person being responsible for the implementation of the policy on the use of force within each hospital.

Clear communication of information to children, young people, parents and carers about how the use of force will be managed and recorded at the hospital.   

 
Aftermath
Parents of man who died after police restraint challenge delay over Seni's law
The Guardian, 20.07.2020, Heather Stewart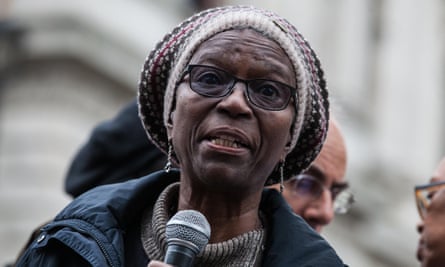 Ajibola Lewis, the mother of Olaseni Lewis, who died after being restrained in a mental health hospital in 2010.Photograph: Alamy
The parents of a young black man who died after being restrained in a mental health hospital are asking why a law passed in his name almost two years ago has not yet been enacted by the government.
Aji and Conrad Lewis, alongside other campaigners, have signed a letter to the mental health minister, Nadine Dorries, calling for the government to set a commencement date for the Mental Health Units (Use of Force) Act 2018.
The act, known as Seni's law after their son, Olaseni, was introduced as a private member's bill by the Labour MP Steve Reed. It requires mental healthcare providers to keep records of the use of force, and to train staff in de-escalation techniques to help reduce the use of restraint.
It is also intended to improve transparency and accountability, with every mental health unit having to publish its policy on the use of restraint, keep a record of occasions on which it is used, and designate one person who is responsible for implementing the policy. Police officers who attend mental health settings will have to wear body cameras.
Olaseni, who was 23, died in 2010 soon after he was subjected to what an inquest described as "disproportionate and unreasonable" restraint at Bethlem Royal hospital in London involving 11 police officers.
His mother said at the time the law was passed: "It took us years of struggle to find out what happened to Seni: the failures at multiple levels amongst the management and staff at Bethlem Royal hospital, where, instead of looking after him, they called the police to deal with him.
"We welcome the law in his memory, in the hope that it proves to be a lasting legacy in his name, so that no other family has to suffer as we have suffered."
The letter to Dorries, calling on her to enact the legislation urgently, has also been signed by several charity leaders, including Paul Farmer of the mental health charity Mind and Emma Thomas of YoungMinds.
"The government simply needs to set a commencement date, something that usually takes just weeks. We can't wait any longer. Either this legislation matters to the government or it doesn't. Ministers must bring Seni's law into force without further delay." 
A Department of Health and Social Care spokesperson said: "Mental health services will continue to expand further and faster thanks to a minimum £2.3bn of extra investment a year by 2023/24 as part of the NHS long-term [plan].
"The government was fully supportive throughout the passage of the Mental Health Units (Use of Force) Act and is committed to publishing statutory guidance on the act for consultation as soon as possible."
Sources: Justiceforseni.com, The Guardian
Recent posts
Papal Bull of 1455, Romanus Pontifex
This Bull authorised Portugal to raid African Kingdoms, territories and land, capture and enslave the inhabitants and seize their natural and mineral resources, under the authority of the Pope and the Catholic Church.