ACTOR CHADWICK BOSEMAN DIES AGED 43
Actor Chadwick Boseman, who played black icons Jackie Robinson and James Brown before finding fame as the regal Black Panther in the Marvel cinematic universe, has died of cancer, his representative said. He was 43.
Boseman died at his home in the Los Angeles area with his wife and family by his side, his publicist Nicki Fioravante said on Friday.
Boseman was diagnosed with colon cancer four years ago, his family said in a statement.
"A true fighter, Chadwick persevered through it all, and brought you many of the films you have come to love so much," his family said.
"From Marshall to Da 5 Bloods, August Wilsons Ma Raineys Black Bottom and several more – all were filmed during and between countless surgeries and chemotherapy. It was the honour of his career to bring King TChalla to life in Black Panther."
Boseman had not spoken publicly about his diagnosis. It is believed he married his long-term partner, the singer Taylor Simone Ledward, earlier this year. The couple had no children.
Boseman paid tribute to Ledward in his acceptance speech at the 2019 NAACP Image Awards in Los Angeles, where he won the trophy for outstanding actor in a motion picture. He said: "Simone, you're with me every day. I have to acknowledge you right now. Love you."
Born in South Carolina, Boseman graduated from Howard University and had small roles in television before his first star turn in 2013. His striking portrayal of the stoic baseball star Robinson opposite Harrison Ford in 2013's 42 drew attention in Hollywood.
Boseman died on a day that major league baseball was celebrating Jackie Robinson day.
"This is a crushing blow," actor and director Jordan Peele said on Twitter, one of many expressing shock as the news spread across social media.
Mark Ruffalo, who starred alongside Boseman in the Marvel films, playing Hulk said it was an honour working with Boseman.
"All I have to say is the tragedies amassing this year have only been made more profound by the loss of Chadwick Boseman," he said. "What a man, and what an immense talent. Brother, you were one of the all time greats and your greatness was only beginning. Lord love ya. Rest in power, King."
Don Cheadle, who also starred with Boseman in the Marvel films, posted a picture of them together: "i will miss you, birthday brother. you were always light and love to me. my god … forever and ever …"
"This broke me," said actor and writer Issa Rae.
His T'Challa character was first introduced to the blockbuster Marvel movies in 2016's Captain America: Civil War, and his Wakanda Forever salute reverberated around the world after the release of Black Panther two years ago. It took in more than $1.3 bn in global box office and is the only Marvel Studios film to receive a best picture Oscar nomination.
"Chadwick's passing is absolutely devastating," said Kevin Feige, president of Marvel Studios and chief creative officer of Marvel, in a statement.
"He was our T'Challa, our Black Panther, and our dear friend. Each time he stepped on set, he radiated charisma and joy, and each time he appeared on screen, he created something truly indelible. He embodied a lot of amazing people in his work, and nobody was better at bringing great men to life.
"He was as smart and kind and powerful and strong as any person he portrayed. Now he takes his place alongside them as an icon for the ages. The Marvel Studios family deeply mourns his loss, and we are grieving tonight with his family."
He took on his first producing job in last years action thriller 21 Bridges, in which he also starred, and was last seen on-screen in Spike Lees film Da 5 Bloods as the leader of a group of Black soldiers in the Vietnam War.
Boseman completed one last performance, in an adaptation of August Wilson's Neflix film, Ma Rainey's Black Bottom. The film, in which Boseman stars alongside Viola Davis, finished shooting last summer.
Even at the outset of his Hollywood career, Boseman was clear-eyed about and even sceptical of the industry in which he would become an international star.
"You don't have the same exact experience as a black actor as you do as a white actor. You don't have the same opportunities. That's evident and true," he said while promoting 42.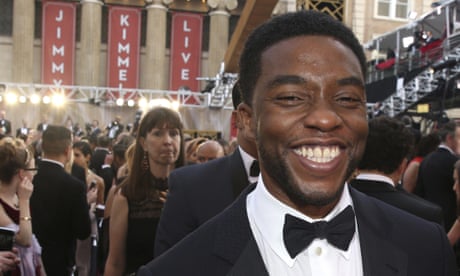 "The best way to put it is: How often do you see a movie about a black hero who has a love story … he has a spirituality. He has an intellect. It's weird to say it, but it doesn't happen that often."
Asked about his own childhood heroes and icons, Boseman cited political leaders and musicians: Malcolm X, Martin Luther King Jr., Bob Marley, Public Enemy, A Tribe Called Quest and Prince. Deeply private and often guarded in his public appearances and interviews, he was nonetheless eager to communicate the significance of his work and its impact on the broader culture.
Former vice president and current presidential candidate Joe Biden wrote, "The true power of Chadwick Boseman was bigger than anything we saw on screen. From the Black Panther to Jackie Robinson, he inspired generations and showed them they can be anything they want — even super heroes."
Kamala Harris posted her own tribute to the actor, calling him "brilliant, kind, learned, and humble."
Source: The Guardian, Saturday 29 August 2020. Additional media by Still We Rise.
Recent posts
Papal Bull of 1455, Romanus Pontifex
This Bull authorised Portugal to raid African Kingdoms, territories and land, capture and enslave the inhabitants and seize their natural and mineral resources, under the authority of the Pope and the Catholic Church.