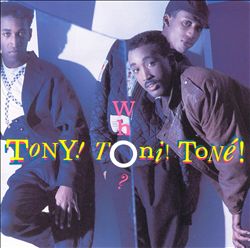 Tony! Toni! Toné! merged the past and present like no other R&B act of the 1980s and '90s. Disposed to enhancing the new jack swing era with traditional gospel and classic R&B incorporated to natural and scholarly effect, they wrote with immediate impact and lasting relevance in mind, and at the same time took full advantage of vintage and advanced recording techniques, from live string sections to looped breakbeats. As a consequence, the trio created some of the richest ballads and most substantive dancefloor grooves of their era. From 1988 through 1996, they placed a dozen singles in the Top Ten of Billboard's R&B/hip-hop chart, with three of them — "Feels Good," "If I Had No Loot," and the Grammy-nominated "Anniversary" — taken to the same heights of the Hot 100. Who? (1988), The Revival (1990), Sons of Soul (1993), and House of Music (1996), their four studio albums, each earned gold, platinum, or multi-platinum RIAA certifications. Although the Tonies were through by the time neo-soul was devised as a marketing term and accepted stylistic category, all three members, especially Raphael Saadiq (aka Raphael Wiggins), have had lasting and fruitful careers outside the group.
The Oakland-based Tony! Toni! Toné! formed in 1986. Brothers Dwayne and Raphael Wigginsand their cousin, Timothy Christian Riley, first played together on an informal basis. Dwayne (primarily a guitarist) was in another band, as were the latter two together, who also performed with fellow Bay Area native Sheila E. In 1987, the same year Raphael Wiggins (on bass and background vocals) and Riley (on drums and background vocals) appeared on Sheila E.'s self-titled album, Tony! Toni! Toné!made their recorded debut with the self-produced, independently released 12″ single "One Night Stand." A deal with Polygram subsidiary Wing followed suit. Lined up with Denzil Foster and Thomas McElroy, fellow songwriters and producers fresh off Timex Social Club and Club Nouveau, the trio made their first album, Who? (number 69 pop, number 14 R&B/hip-hop), led by the number one R&B/hip-hop hit "Little Walter" and three successive Top Ten R&B/hip-hop singles in 1988 and 1989. The LP was certified gold by the end of the latter year.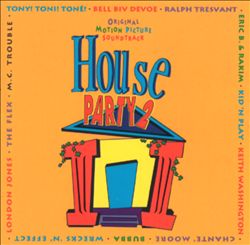 For their second album, the Tonies handled more of the writing, instrumentation, and production while Foster and McElroy played a smaller role, devoting more time to launching En Vogue. Faring even better than the debut, the 1990 set The Revival (number 34 pop, number four R&B/hip-hop) yielded four number one R&B/hip-hop singles: "The Blues," the ecstatic Top Ten pop crossover "Feels Good," and two of the era's most distinctive ballads, "It Never Rains (In Southern California)" and "Whatever You Want." The album was gold within two months of release and went platinum early the following year. After the group contributed to the soundtracks of House Party II and Boyz N the Hood, they scaled even higher in 1993 with another album titled in reference to their connection with the past. Sons of Soul (number 24 pop, number three R&B), the majority of which was written and recorded in Trinidad, spawned "If I Had No Loot" and "Anniversary," Top Ten hits on the R&B/hip-hop and pop charts. Another indelible love song, "Anniversary" was nominated for a Grammy in the category of Best R&B Performance by a Duo or Group with Vocal. The parent release eventually reached double-platinum status.
Over three years transpired between the release of Tony! Toni! Toné!'s third and fourth albums. Rumors of a split, certainly fueled in part by the members' activity outside the group, began to circulate. Dwayne Wiggins worked closely with Simplē E, a singer/rapper who charted with the Sugar Hillsoundtrack cut "Play My Funk." Wiggins' brother, seeking to distinguish himself in more ways than one, adopted the last name Saadiq, and in 1995 charted with his debut solo single for the soundtrack for Higher Learning, "Ask of You," and assisted the emergence of throwback D'Angelo by co-writing and co-producing "Lady." Riley co-wrote "Ask of You" and assisted his brother Dion's group, Art N' Soul, among other pursuits. The bandmates were also drifting apart as people. They recorded most of their fourth and final album individually in different studios, and reconvened only to apply the finishing touches. The result, House of Music (number 32 pop, number ten R&B/hip-hop), was issued in November 1996. It was promoted with the DJ Quik collaboration "Let's Get Down," their 12th Top Ten R&B/hip-hop single, and despite no other hits on that level, went platinum.
House of Music wasn't even a year old when the Mercury label released Hits, a career-spanning overview. By then, all three members were on separate paths that occasionally intersected throughout the next couple decades. Saadiq was fully invested in a profusion of production and songwriting gigs that led to a full-blown solo career. Wiggins kept Tony! Toni! Toné! afloat as a performing entity, worked with Kelly Price, Jody Watley, and Destiny's Child, and in 2000 released an album of his own. Riley, who took part in Saadiq's and Wiggins' solo sessions, as well as those of Saadiq's Lucy Pearl, supported artists such as Allure, Will Smith, and Kelly Rowland. Wiggins and Riley appeared credited as Tony! Toni! Toné! on Alicia Keys' "Diary." Plans for a proper Tony! Toni! Toné! reunion were revealed by Saadiq in 2019, while he was promoting his fifth studio solo album.
Source: Allmusic.com, Andy Kellman
Recent posts
Papal Bull of 1455, Romanus Pontifex
This Bull authorised Portugal to raid African Kingdoms, territories and land, capture and enslave the inhabitants and seize their natural and mineral resources, under the authority of the Pope and the Catholic Church.