The Eritrean national anthem was written by Solomon Tsehaye Beraki, and composed by Isaac Abraham Meharezghi and Aron Tekle Tesfatsion.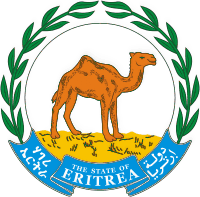 Ertra, Ertra, Ertra,
The barbarian enemy humiliatingly defeated
And martyrdom has paid for freedom
Decades of devotion for purpose
Your name became challenger, miraculous
Ertra, comfort for the oppressed
Proved that truth can win after all
Ertra, Ertra
A sovereign state on earth after all
Dedication that led to liberation
Will buildup and make her green
We shall honor her with progress
We have a word to her to embellish
Ertra, Ertra
A sovereign state on earth after all
Recent posts
#PALESTINE #PEACE
The creation of Israel was and is a violent process that entailed the forced expulsion of hundreds of thousands of Palestinians from their homeland to establish the state of Israel.
THE AFRICAN DIASPORA IN CHINA
Did you know that China has the largest African migrant population in Asia? They mostly live in a Guangzhou, also known as 'Little Africa' or 'Chocolate City'.