The Eritrean national anthem was written by Solomon Tsehaye Beraki, and composed by Isaac Abraham Meharezghi and Aron Tekle Tesfatsion.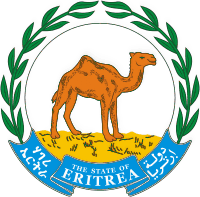 Ertra, Ertra, Ertra,
The barbarian enemy humiliatingly defeated
And martyrdom has paid for freedom
Decades of devotion for purpose
Your name became challenger, miraculous
Ertra, comfort for the oppressed
Proved that truth can win after all
Ertra, Ertra
A sovereign state on earth after all
Dedication that led to liberation
Will buildup and make her green
We shall honor her with progress
We have a word to her to embellish
Ertra, Ertra
A sovereign state on earth after all
Recent posts
SLAVE BIBLE
"It was intended for use among enslaved Africans in the British West Indies, which is modern day Caribbeans, so Jamaica, Barbados, Antigua," he says.
USA: MANIFEST DESTINY
President Thomas Jefferson kicked off the country's westward expansion in 1803 with the Louisiana Purchase, which at some 828,000 square miles nearly doubled the size of the United States and stretched from the Mississippi River to the Rocky Mountains.