The Eritrean national anthem was written by Solomon Tsehaye Beraki, and composed by Isaac Abraham Meharezghi and Aron Tekle Tesfatsion.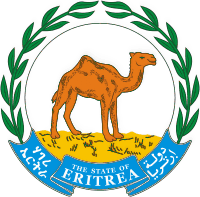 Ertra, Ertra, Ertra,
The barbarian enemy humiliatingly defeated
And martyrdom has paid for freedom
Decades of devotion for purpose
Your name became challenger, miraculous
Ertra, comfort for the oppressed
Proved that truth can win after all
Ertra, Ertra
A sovereign state on earth after all
Dedication that led to liberation
Will buildup and make her green
We shall honor her with progress
We have a word to her to embellish
Ertra, Ertra
A sovereign state on earth after all
Recent posts
LEARIE CONSTANTINE
After his retirement from professional cricket Constantine began working in a lawyer's office, a career he had previously pursued before his years of professional cricket.
CAMARA LAYE
During his stay in France, Laye came into contact with other African students and scholars, exposing him to such ideas as the Pan-Negro and Negritude which later influenced his writings.